Hair loss in females
Hair loss in females differs in many aspects than in males. It starts in Female pattern alopecia have central thinning of hair line as opposed from sides of forehead seen in males, A reduction in hair density and more scalp visibility like- widening of the hair partition, signs of Hair Thinning..
There are many reasons for hair thinning in females like;
Nutritional deficiencies for example, vitamins, iron
Thyroid diseases
Hormonal
External factors like seasonal, pollution etc
Women start noticing hair thinning between ages 25 to 30. Both hair fall and thinning can be attributed to reasons like lack of nutrients, hereditary factors, aging, illness, stress and hormonal imbalances. The levels of endocrine hormones, particularly androgens and hormonal changes caused by menopause also cause hair fall and thinning in women.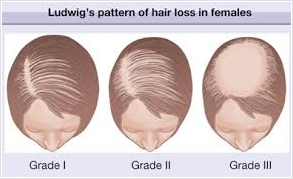 Fig 1 stages of female pattern alopecia
Other less common causes of hair loss in females are
Alopecia areata
Telogen hair loss
Trichotillomania
Cicatricial alopecia
Treatment of baldness:
YES, it is possible.
Depending upon the grade and severity of the situation, the qualified dermatologist can choose between
Medical: effective, safe and FDA approved drugs like Minoxidil, Fiasteride/dutasteride along with adequate nutritional supplementation
Proven add on therapies like PRP, Mesotherapy
Hair transplant: state of the art-Follicular Unit Extraction (FUE) is a tailor-made procedure to get back the lost hairs in areas of complete follicle loss