Hair loss in males
Hair loss in males starts generally after puberty, the most common pattern being loss of hairs from sides of forehead n top of head. (Male pattern baldness or Androgenetic alopecia)
The factors involved are
Genetic
Hormonal
Environmental (pollution/seasonal)
Nutritional (vitamin deficiencies)
After puberty, male hormones (mainly DHT) act on these genetically programmed hair follicles transform to terminal (thick) hair to miniaturized follicles (vellus hair).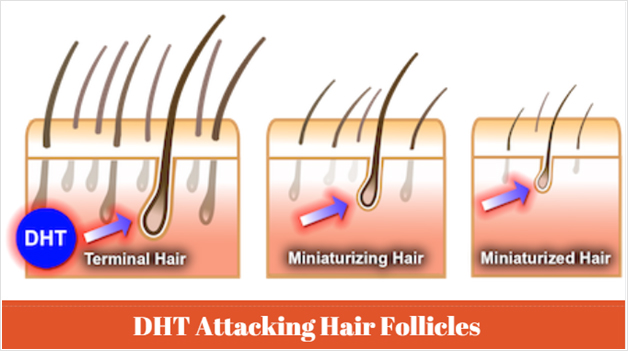 Fig, 1 Mechanism of AGA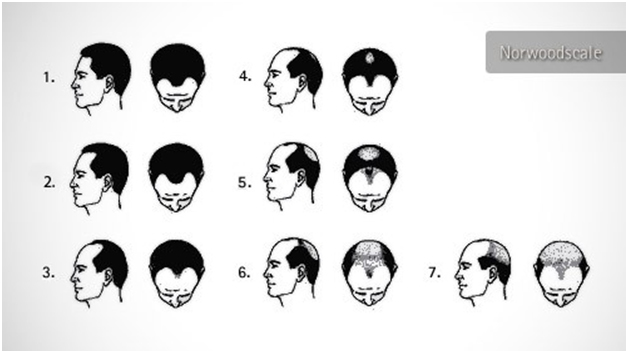 Fig 2. Stages of AGA
Other less common causes of hair loss in men are
Alopecia areata
Cicatricial alopecia
Treatment of baldness:
YES, it is possible.
Depending upon the grade and severity of the situation, the qualified dermatologist can choose between
Medical: effective, safe and FDA approved drugs like Minoxidil, Fiasteride/dutasteride along with adequate nutritional supplementation
Proven add on therapies like PRP, Mesotherapy
Hair transplant: state of the art-Follicular Unit Extraction (FUE) is a tailor-made procedure to get back the lost hairs in areas of complete follicle loss.